Banish Pest Control
Call and get a pest control estimate over the phone!
"From ants to mice to roaches and everything in between, our extermination services are unmatched."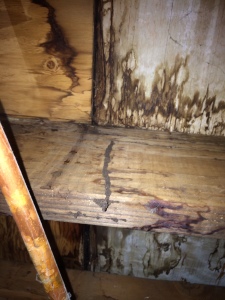 Termites are a wood destroying organism, that unlike Carpenter Ants, get their nutrients by converting cellulose, (which is a compound found in wood and paper products) into substances that termites can digest. There are many different species of termites, but the most common are found in the Northwest - the Dampwood and Subterranean Termites. Who needs termite removal?
Just by the name, one can guess that Dampwood Termites infest wet and rotting wood. These Termites are rather large, ranging from one-half inch to one-eighth inch long. They are a creamy orange/yellowish color. The dampness of the wood they infest, caters to their need for high levels of moisture to survive. Unlike Subterranean Termites, Dampwood Termites don't always have to nest in the ground. Their nests are usually inside the wood they infest. Dampwood Termites in the home are a good indication that there is a high level of moisture in the area they've infested. Finding and fixing the source of the moisture plays a mojor part in Dampwood Termite control.
Subterranean Termites also ingest and convert cellulose, but they nest in the ground rather than in the wood itself. These Termites are much smaller than Dampwood Termites being no bigger than one-quarter inch. They appear to be a creamy white translucent color. Termites have soft bodies that require moisture to survive and when exposed to the air, their bodies lose water at a rapid rate. They are also sensitive to light. For those reasons, Subterranean Termites form protective mud tubes when traveling from the nest to their food source if it is not in direct contact with the nest.

We make sure the job is handled right, the first time. We mainly focus on Portland and Beaverton, OR, but we're happy to travel areas such as Cedar Hills, Cedar Mill, Aloha, Tigard, Tualatin, Lake Oswego, Milwaukie, Sherwood, Oak Grove, Hillsboro, Cornelius, West Linn, Gladstone, Wilsonville, Newberg, Canby, Oregon City, Silverton and Salem. Give us a call. Chances are that we can make it to that area!